Are you starting to plan your family's summer vacation? Millions of Americans are getting the jump on their time off together, and now is the time to start booking.
First, you're going to want a few tools in your travel basket to make the most of these deals:
Grab the Capital One Shopping extension for Chrome browsers. It's free, and one of the easiest ways to take advantage of additional discounts.
If you plan on flying, get out your favorite flight tracker (Google Flights is great – Capital One has a handy tool for cheap flights if you're a cardholder).
Get a general idea of where you want to go, and if your dates are flexible.
Now that you've checked these items off of your list, you're ready to start booking.
Vacation Home Rentals
The middle of summer is peak vacation season for vacation home rentals. Flexible families can take advantage of deals that are currently being offered by some vacation home rental owners if they book at the beginning or end of the season (ie. Labor Day weekend). If you use the Capital One Shopping extension, you can currently get 5% back for booking with Vrbo or 9% back for booking via TripAdvisor (yes, they do home rentals now).
By booking at the beginning or end of the season, you can avoid peak season pricing. Many of these homeowners want to get their homes booked early – now is the time to put down a deposit and get your booking set in stone. Here are the best times to book via a 2020 Vrbo study:
| Holiday | Book by |
| --- | --- |
| Spring Break | February 10th |
| Memorial Day weekend | April 20th |
| Summer | April 30th |
| Fourth of July weekend | May 25th |
| Labor Day weekend | July 28th |
| | |
Data via Vrbo
These are the dates that you want to book by, so don't wait until the last minute. Less desirable vacation homes might be all that are left if you put off the decision for too long – no one wants to walk 1 mile in sandy flip flops back their beach house.
When to Book Flights
If you plan on flying to your summer vacation destination, there are a few ways to find savings. Google Flights is a great free tool to help provide you with cheap flight alerts – this is great if you're a flexible flyer. Some families might not have the flexibility of a single traveler or couple looking for some R&R.
Capital One cardholders can use the Capital One Travel portal to help. The travel planning and booking site provided by the credit card company allows you to show prices by day, set up alerts for cheap flights, lock in rates (freeze price), and even help you find a lower rate after booking. You can even see if prices are predicted to go up or down to figure out if now is a good time to book.
The best flight deals are regionally based on your departure. Here's a snapshot of great deals right now:
Atlanta to Miami, May 20th to May 24th: $55 roundtrip via Frontier
Raleigh to Orlando, May 20th to May 24th: $95 round trip via Frontier
Dallas to Denver, May 20th to May 24th: $118 round trip via Frontier
Miami to NYC, May 20th to May 24th: $163 roundtrip via Delta
NYC to Nassau, May 20th to May 24th: $381 roundtrip via JetBlue
San Francisco to Cabo San Lucas, May 20th to May 24th: $307 roundtrip via Aeromexicoca
Vacation Package Deals for Families
Many of the top card issuers, retail clubs (ie Costco), and airlines have put together vacation package options. Costco is one of our favorites because of their excellent research, reputation, and member friendly policies. If you're a Costco member, you're in luck for some family friendly fun.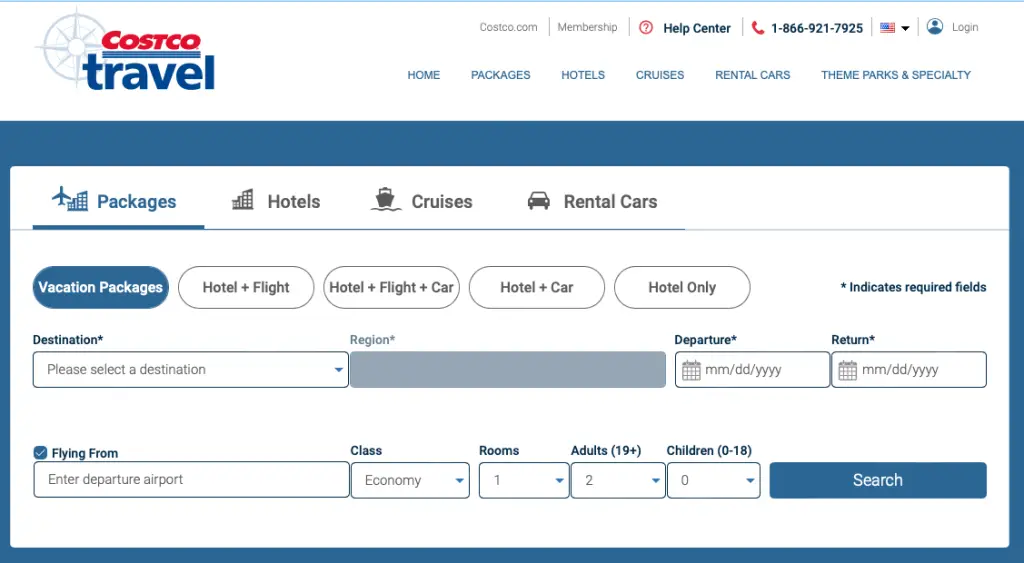 When you book with Costco, members typically get extra perks such as Costo gift cards and spa credits. Here are a few of our favorite family friendly vacation packages from Costco right now:
The Royal at Atlantis Package, Bahamas: This is a family friendly resort, where the kids stay and play for free. You just need to book while the package is available and travel by 12/17/2023. The deal is for 4 or more nights. Prices vary by departure location.
Hyatt Ziva Cancun, Cancun: This all inclusive resort comes with a Costco gift card, $100 instant savings, 24 hour room service, KidZ Club access for ages 4-11, and KidZ Club Water Park. This deal will be gone by 3/11/2023, and you will need to travel by 12/8/2023 for 5 nights or more.
Delta has built a reputation as one of the best airlines in the United States. They have also put together some of the best vacation packages for families. Here are a few of our favorites:
Seven Stars Resort & Spa, Turks and Caicos: This deal includes up to 25% off rooms plus an exclusive $50 resort credit. You will need to book by 3/6/2023 and travel from 5/1/2023 through 12/19/2023 to take advantage of this deal.
Universal's Lowes Sapphire Falls Resort, Orlando: The deal for this 4 star resort includes up to 40% off rooms if you book before 3/6/2023 and travel through 8/12/2023.
Find and Lock Your Deals
Take advantage of some of the free ways to find travel deals this summer mentioned above. These tools will help you build your ideal vacation at the best rate for you. Club members, cardholders, and rewards members may get access to extra perks as well. Learn more about using your rewards points to travel for less or free as you plan your summer trip.