Capital One hasn't traditionally been known for its travel cards, but the introduction of the Venture series aims to change that.
The best of these cards, the Venture X, offers the greatest benefits and perks for travelers. If you're a frequent traveler or globetrotter, it's worth taking a look at everything this card has to offer.
Is the Capital One Venture X Rewards credit card the right travel card for you? Read on for our review of Capital One's travel card.
The Basics of the Capital One Venture X Rewards Credit Card
Introductory Offer:

bonus_miles_full

Rewards: 10x miles on hotels and rental cars booked through Capital One Travel, 5x miles on flights booked through Capital One Travel, 2x miles on all other purchases.
Perks: Miles never expire (for the life of the account), cell phone protection, miles redemption is very easy, add additional cardholders (like a spouse) to earn more rewards, 10,000 anniversary bonus miles (equal to $100 towards travel).
Annual Fee: $395
APR:

reg_apr,reg_apr_type

Credit Level: Excellent
Launched in November of 2021, the Capital One Venture X Rewards Credit Card is a travel credit card. It's the premier card from Capital One. It's also a Visa card, so it's widely accepted.
Capital One's other travel credit cards include the VentureOne Rewards for Good Credit, VentureOne Rewards, and Venture Rewards. The Venture X Rewards is the highest tier of travel cards and offers greater features and rewards than Capital One's other VentureOne/Venture cards.
While Capital One is typically known for offering cards with little or no annual fee, the credit card annual fee for the Venture X Rewards Credit Card is $395. It may sound like a lot, but it's easy to offset the cost by using the rewards (more on those in a bit).
The card has an APR of intro_apr_rate,intro_apr_duration. That places it firmly middle of the pack when it comes to APR.
Know that if you're interested in applying for Venture X, you will need an excellent credit score. Capital One doesn't list the exact credit score requirements. However, a score of 740 or greater will increase your chances of getting approved.
Finally, if you are an existing Venture Rewards cardholder, you can apply for the Venture X card too. So it's possible you can be a cardholder of multiple Capital One Venture cards.
That's the gist of the card, but there's a lot more that makes it appealing to travelers.
The In-Depth Capital One Venture X Rewards Credit Card Review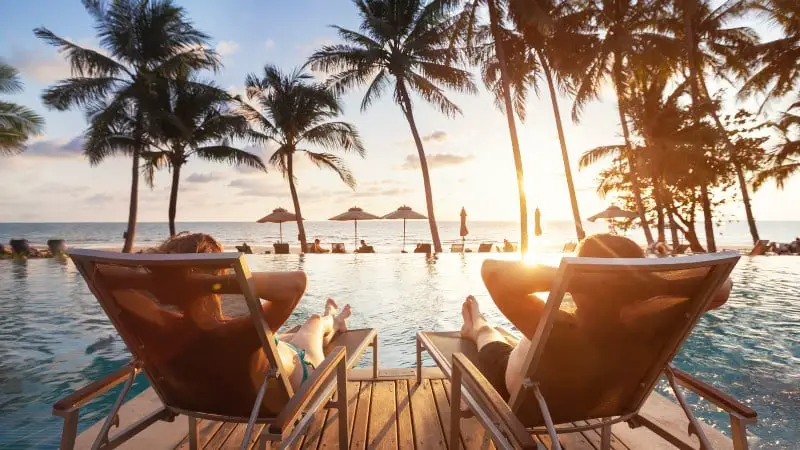 Now let's take a deeper look at the Capital One Venture X Rewards Credit Card, and why it may be right for you.
Like other Capital One Venture cards, the Venture X offers travel rewards while keeping things simple. Like any good travel card, there are zero foreign transaction fees, preventing you from getting dinged by surprise fees after your trip.
If you sign up and stick with it, every card anniversary (every 12 months after you open your card) you will be rewarded with 10,000 bonus miles. Be aware it may take a billing cycle or two to post to your account.
First, let's look at the travel rewards for the other Venture cards:
But the Venture X goes further, allowing you to earn unlimited 2x miles on purchases.
However, you can stretch those earnings a lot farther if you use Capital One Travel. Capital One Travel is Capital One's one-stop portal for booking travel. If you're a Capital One cardholder of any kind, you will want to book your flights and hotel through the portal to maximize your rewards.
Venture X cardholders will reap the biggest benefit. Book your flights through Capital One Travel to earn unlimited 5x miles. Hotels and rental cars earn an unlimited 10x miles.
If you're new to booking travel, check out our guide on how to book a trip using only reward points.
Aside from rewards, the portal also offers consumer-friendly price options, such as the ability to freeze your price for later, a price match guarantee, and for an additional fee, cancel for any reason travel insurance.
Other Perks of the Venture X Card
Aside from earning miles and accessing the Capital One Travel portal, the Venture X offers other benefits too, such as lounge access. This includes over 1,300 Priority Pass lounges, plus Plaza Premium Lounges.
An added bonus is access to the new Capital One Lounges. These lounges will include showers, grab-and-go food options, cycling and yoga rooms, and multi-faith prayer rooms.
Currently, only one Capital One Lounge is open (Dallas/Fort Worth). However, Dulles and Denver will also have lounges added in 2023.
Booking travel through Capital One Travel will also grant you up to $300 in annual credit.
Finally, if you sign up for the Venture X card and make $4,000 of qualifying purchases within the first 3 months, you earn 75,000 bonus miles. If you're set on taking a big trip soon, this could be an easy way to earn bonus miles.
Both the $300 annual credit and the 75,000 bonus miles are a great way to offset the card's annual fee. Once you take that into consideration, the $395 annual fee is easier to swallow.
Go directly to Capital One Venture X Rewards Credit Card site.
Is the Capital One Venture X Right for You
Hopefully, by reading this Capital One Venture X review, you will have a better idea of if the Capital One Venture X Rewards credit card is right for you. If you have a very good or excellent credit score, are okay with booking your travel through Capital One, and don't mind the $395 annual fee, it's worth looking into.
For more information on the Capital One Venture X or for a comparison of other travel cards, check out our listing of the best travel rewards credit cards.