Technology is opening up how people save for retirement, especially millennials. Among the most talked about apps used for investing, Robinhood routinely catches headlines. The free stockbrokerage app has turned heads and has grown to a few million investors.
The Robinhood app has a proven track record of happy users, but is it right for beginners? Here's what you need to know.
What New Investors Need to Know About Micro Investing Apps
The rise of micro-investing apps has helped the Millennial generation, rightfully skeptical of the market, jump into stocks, ETFs, and cryptocurrencies. Robinhood has lead the way, but there are other great options out there like Acorns and Stash. Here's what most new investors should be looking for:
Put Yourself on Autopay: Many new investors need to build the habit of saving. The better apps allow you to auto deposit into your investment account.
Avoid the Big Fees: Robinhood, Sash, and Acorns help beginners invest, but in different ways. One similar thing is the lack of fees (especially Robinhood).
Look for Education: The best investment apps for beginners and experts provide a lot of education.
Where Does Robinhood Stack Up for New Investors?
The Robinhood app provides an amazing amount of options. Investors can invest in:
Most of the other micro-investing apps only allow you to invest in specific funds set aside for your investment goals. For new investors, the Robinhood app might provide too many options. However, there are new tools to help new investors find their way.
Join Robinhood and get a stock like Ford, Apple, or Facebook for Free >>
Investments are sorted into categories to help you learn more. Users can sort by available market data, and also see Robinhood only information which is based on anonymous user data. This would allow a beginner to see how many Robinhood users have a stake in Apple ($AAPL), how experts might rank a stock, and recent news.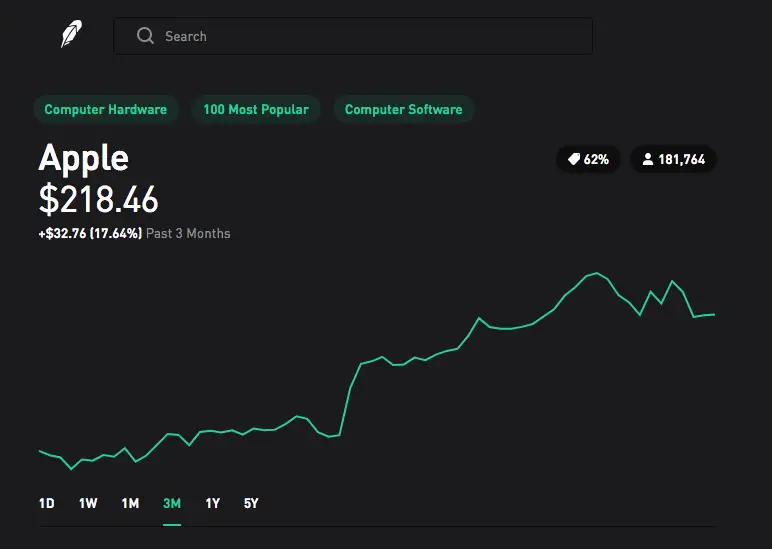 For new investors, this information can help you make wiser financial decisions. But is it enough?
Scheduled Funding: Robinhood makes it even easier for new investors to stick to their new discipline with scheduled funding of their investment accounts. You can schedule your deposits weekly, twice a month, monthly, and quarterly.
Ease of Use: Trading stocks, and buying options (don't do as a beginner) is easy with Robinhood. The interface is beautiful and very user friendly.
Fees: There are zero trading fees with Robinhood, making it an awesome choice for many investors.
What Type of New Investor Would Like Robinhood?
If you're new to investing, but want more control over your account, Robinhood would be a great choice for you. While other discipline building apps like Acorns help deposit money into your account, they lack the same investment flexibility that Robinhood users enjoy.
Get Free Trades on Robinhood >>
Full Disclosure: The author holds positions in Apple (mentioned in article), and also uses Robinhood. Robinhood compensates the author for sign ups using the referral links (the user is also credited as well).