UPDATE: This limited time offer has now expired. Some of this content is no longer accurate. You can see our favorite travel cards here or read more credit card news here.
---
Chase just increased their introductory bonus for one of their top travel rewards cards, the Chase Sapphire Preferred® Card. The point bonus is one of the best we've seen so far in 2023.
The Offer (updated July 6, 2023): bonus_miles_full
Previously the introductory offer was 60,000 points for the Chase Sapphire Preferred® Card. This increase is an opportunity for anyone looking for a travel rewards card right now, and it has consistently been one of our favorites.
The annual_fees, Chase Ultimate Rewards® travel portal, and added benefits and protections make this one of the best travel cards on the market right now, and the introductory bonus only sweetens the deal.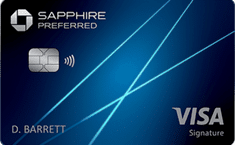 How Chase Ultimate Rewards Add Up
To earn the 80,000 bonus points, you will need to spend $4,000 on purchases within the first 3 months of opening the account. Keep in mind, this is a travel rewards card. To make the most of your points, you will want to redeem them for travel (but you can still use Chase Ultimate Rewards® portal to redeem for cash back, statement credits, gift cards, and more).
By redeeming your points for travel via their travel portal, you get 25% more value from your points. That means that the 80,000 bonus points translate into $1,000 towards travel when booking through Chase Ultimate Rewards®.
Chase Sapphire Preferred Offers More Ways to Earn
Of course, because this is a travel card, there are multiple ways to earn more points through travel purchases.
Chase does a great job of reward cardholders by helping them maximize their point earning potential through through travel related purchases, dining purchases, grocery purchases (excluding Target, Walmart, and wholesale clubs), and more. We like that there are plenty of ways to earn points leading up to your vacation, and while on it too.
The Possibilities with 80,000 Bonus Points
If you're planning a vacation (or a few) this year, using your Chase Sapphire Preferred® Card to book everything through the travel portal is a great way to reach the $4,000 spend requirement. A hotel booking via Chase Ultimate Rewards® earns 5x points, and car rentals and airfare will earn 2x points. These points are added to the 80,000 point introductory offer just announced.
Earn points for booking your first vacation, and redeem your points for your second. Remember, redeeming your points though Chase Ultimate rewards gets you 25% more value for hotel, car rentals, and airfare.
Chasing Points
Keep in mind that credit cards should be used responsibly. Chasing points and rewards is not a wise money habit. When shopping for credit cards, including travel rewards, make sure that they fit your spending habits and needs.
The 80,000 point introductory offer is certainly attractive, and one we're excited about. This offer is for a limited time only, and we don't know how long it will last.
Learn more about the Chase Sapphire Preferred® Card or compare more travel rewards cards.