There are a few options with FHA loans when it comes to credit scores and down payments:
Lower Credit Score, Higher Down Payment: You can qualify for an FHA loan with a credit score of 500, but you will need to make a 10% down payment.
Higher Credit Score, Lower Down Payment: With a credit score of at least 580, buyers can take advantage of the 3.5% down payment requirement.
An FHA loan provides a significant amount of flexibility for borrowers. However, borrowers will need to pay private mortgage insurance (PMI) to protect the lender. This is due to the lower down payment requirements.
Check FHA Mortgage Rates Now >>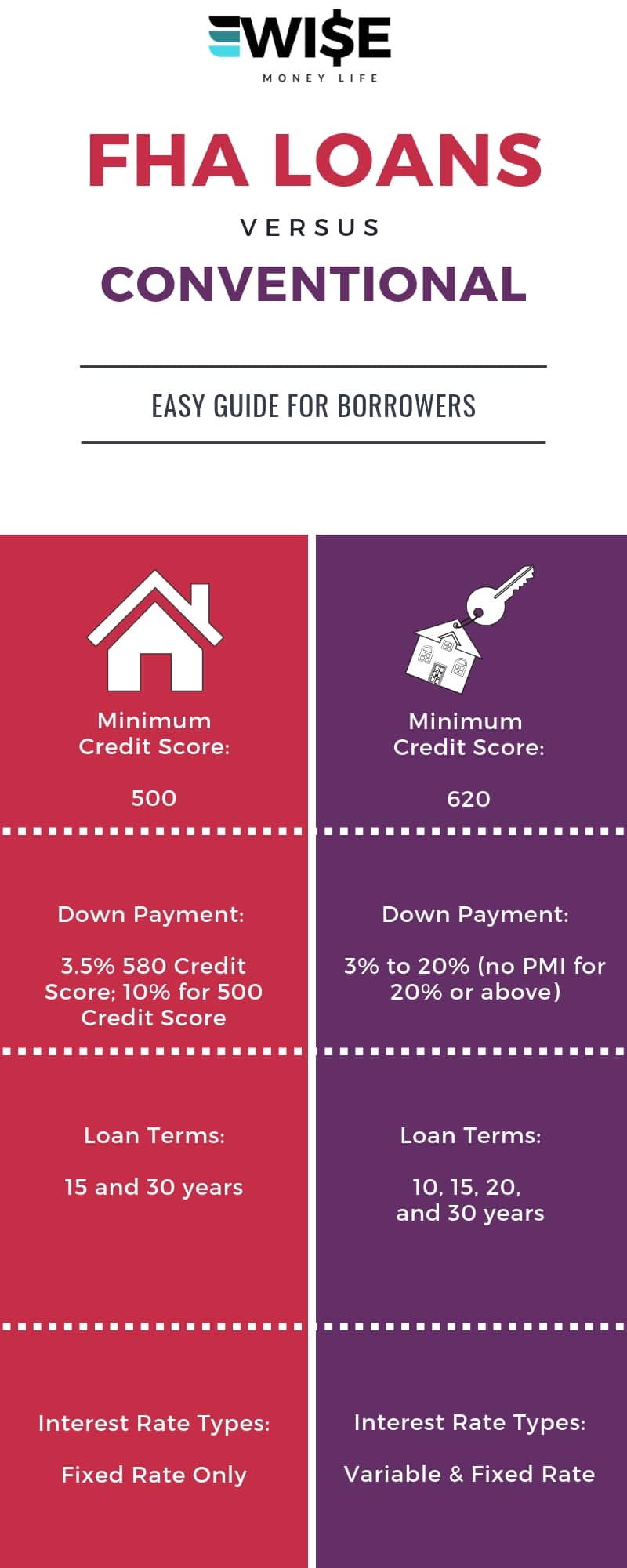 Requirements for an FHA Loan
Employment History: Applicants for an FHA loan must be able to provide 2 years of history proving steady employment.
Bankruptcies and Foreclosure History: Borrowers seeking an FHA loan must not have a bankruptcy or foreclosure within the past 2 years. A positive credit history must be reestablished as well.
Pay Stubs: Borrowers will need to prove income and employment through recent pay stubs.
Tax Returns: Most lenders will want to see the previous two Federal tax returns.
Bank Statements: Borrowers will typically need to provide 2-3 recent bank statements.
Down Payment Requirement: Borrowers must put down 3.5% to 10% (depending on your credit score).

Gifting Down Payments: Family members can gift down payments, which can be a big help for first time home buyers.

Primary Residence: The FHA loan must be used for the borrower's primary residence.
Front End Debt Ratio: Excluding the mortgage amount, the borrower's debt payments shouldn't exceed 31% of their monthly income. Some lenders might allow up to 40%.
Back End Debt Ratio: The mortgage and all other monthly debt payments must not exceed 43% of the borrower's gross monthly income. Some lenders will allow up to 50%.
Check Today's FHA Mortgage Rates >>
Is an FHA Loan Right for Me?
Borrowers that do not have much money saved or are just establishing their credit might be a great fit for an FHA loan. First time homebuyers often use FHA loans, even with great credit. The lower mortgage down payment requirements are attractive to many buyers. Future homeowners might choose an FHA loan during times of higher interest rate as well.
Homeowners can use an FHA loan to buy again, but the home will need to be a primary residence. Current homeowners with an FHA loan might want to consider refinancing into a conventional loan. Home prices have risen consistently over the past few years, allowing refinancing opportunities to look more attractive for some.
Get Started for Free >> Compare FHA Lenders