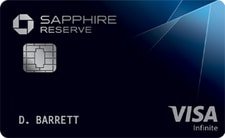 The Chase Sapphire Reserve Credit Card has quickly become one of the go-to credit cards in terms of perks and added features.
There are a number of top-tier cards you'll need to compare it against, including the American Express Platinum, to see which one works best for you. However, if you've been shopping around for a new credit card and you qualify for the Chase Sapphire Reserve Credit Card, you may discover this is the perfect card for your personal needs.
Competes With AMEX Platinum…But Is Different
The Chase Sapphire Reserve Credit Card is most often put against the American Express Platinum Card in terms of comparisons. Both cards do offer similar benefits and there are reasons to go with either of the two. However, one thing you need to keep in mind is the Platinum Card is technically a charge card. Charge cards and credit cards are different. A charge card requires you to pay off the balance in full each month. While the Platinum Card does have several "pay as you go" features, it remains a card that is best used when you can pay off the balance in full.
The Chase Sapphire Reserve Credit Card is exactly that: a credit card. It is easier to pay over time or to make partial payments. So, when weighing the two cards, make sure to keep this feature in mind.
Welcome Bonus
The Chase Sapphire Reserve credit card does have an entry bonus you should consider:
If you spend $4,000 in the first three months you will receive 50,000 bonus points. This works out to around $750 in travel (when booked through the Chase Sapphire website). While there is a $450 annual fee, the bonus points will pay for over three years of annual fees. So, if you're considering a new credit card, the bonus feature makes now the perfect time to apply for the card.
Learn More & Compare This Card
Travel Perks
There are a number of travel perks available with the credit card. First, when booking through the Chase website, even if you're buying airline tickets with your points there is never a blackout date. So you can fly the day before Thanksgiving, around Christmas, or any other traditionally busy time of year without any problem at all.
You will receive a $300 travel credit every year you have the card. You can use this travel credit to pay for purchases you make while traveling. This can be anything from toll bridges and parking garages to hotels and rental cars. Basically this is $300 in free money you can use whenever you need it.
The Chase Sapphire Credit Card has partnered with Priority Pass in recent years to give you access to lounges in over 1,200 airports around the world. If you've never been in an airport lounge before this will completely change the way you travel. You'll have access to complimentary Wi-Fi, snacks (sometimes full meals), drinks, cocktails, and many international lounges (or big city lounges) have showers and business centers.
Earn Points with Chase Sapphire Reserve
Whenever you make a purchase using your Chase Sapphire Reserve Credit Card you'll earn points that can be used on future travel and other benefits. If you book travel with your credit card you'll earn three times the points on these purchases.
The Chase Sapphire Reserve Credit Card has a number of benefits that, if you regularly use the card or travel a good amount, will make your life much easier. While you should always weigh the card against other top-tier cards out there, if you discover the card checks off all your desired boxes and you qualify, now is the perfect time to take advantage of the travel and reward perks.
Compare This Card with Other Popular Travel Cards