Are you an avid traveler? Would you like to travel more often and with better perks? If so, all you need is a credit card that will go to work for you. There are a number of excellent travel credit cards out there, just waiting for you to apply.
Most credit cards now offer some kind of reward or other benefit, so it's all about finding the card with the right perks that will tip the scales for you and your particular needs. Whether you're planning a trip later in the summer, sometime into the fall, or you simply want a card that will help make traveling that much easier, here are the best of the best travel credit cards currently available.
Chase Sapphire Preferred Card
The Chase Sapphire Preferred Card has a number of major benefits. First, you'll discover that most big-time travel credit cards do have an annual fee. However, this card only has a $95 fee attached, which is on the lower end of the spectrum.
Currently (August 2019), if you spend $4,000 within the first three months of activating the Chase Sapphire Preferred Card, you'll receive 60,000 bonus points (on top of the points you earned for the $4,000 spent).
Our Favorite Perks:
60,000 bonus points after spending $4,000 in first 3 months
2x points on travel and restaurants worldwide, 1x on everything else
Low annual fee
Credit needed: Good & Excellent
Chase Sapphire Reserve
Now, if you're an international traveler, the Chase Sapphire Reserve is one of the credit cards you need to consider (named the top premium travel card of 2019 by MONEY Magazine). It will also make up the $450 annual fee pretty easily.
First, you'll receive a $300 annual travel credit that can be used on anything, ranging from airfare to hotels and more. You receive airport lounge access with the included Priority Pass Select (this alone is worth the annual fee). You also receive point earning opportunities throughout the year to help you earn more travel rewards. Additionally, you will also receive a $100 credit for TSA Pre-check or Global Entry.
Our Favorite Perks:
50,000 bonus points after spending $4,000 in the first 3 months (worth $750 towards travel when redeemed through Chase)
$100 credit for TSA Pre-check or Global Entry
3x points on travel, 3x points on dining/entertainment, 1x points on everything else
$0 foreign transaction fees
American Express Platinum Card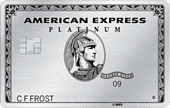 The American Express Platinum Card helped create the world of high-end travel credit cards. This card, in many ways, has similar perks as the Chase Sapphire Reserve card.
It does have a higher $550 annual fee, but you receive $200 in credits that can be used towards airline expenses (such as food and drinks purchased on a flight, for checked baggage, and other fees). You will receive not only the Priority Pass Select card but will be able to enter any Delta lounge (if you're flying Delta), plus there are AMEX lounges throughout the world with this credit card.
You'll receive $200 in Uber credits throughout the year, and you can earn 5x points for every dollar spent on travel when using the AMEX Platinum travel website. You also receive automatic room upgrades and $100 per hotel stay with thousands of hotels that have partnered with the Platinum Card.
What we love:
5x points on hotels and flights booked through AMEX website
Global Lounge access
$200/year airline fee credit
Up to $550/year complimentary benefits with fine hotels and resorts
$200/year Uber credits
Capital One Venture Rewards Credit Card
When you use the Capital One Venture Rewards Credit Card you'll receive two airline miles for every dollar you spend. And through the end of January 2020 you'll earn 10x miles for every $1 spent on hotels and 2x miles on everything else.
It does have a $95 annual fee (waived first year). However, there are no foreign transaction fees, which is a major perk. Travelers love this card from Capital One because their miles never expire and there are no blackout dates when redeeming them.
What we love:
Miles never expire, no limit to the amount of miles earned
No blackout dates, fly any airline, stay at any hotel brand
$95 annual fee waived for first year
2x miles on everyday purchases, 10x on hotels through January 2020
Find the Best Travel Card for You
These are, in many ways, the best of the best travel cards for summer and fall, 2019. Now, you should always look at the fine print of the cards, dive into whether you can transfer the balance of other credit cards onto your new card (as there is often an interest free period), and only apply for a credit card if you actually need one. However, if you do find you're on the market for a new card and want to know what all is out there, these are some of the top cards you need to consider as an avid traveler.