Did you know that few rewards cardholders actually maximize their points? According to a recent study by the U.S. Federal Reserve, "sophisticated individuals profit from reward cards" while many others don't. This is usually because they don't have a strategy behind making their spend match the rewards offered by cards or they constantly chase introductory offers.
If finding a card or two to maximize for you and your family sounds more appealing, then check out the cards and easy to follow strategy for making the most of your points. Here's a simple breakdown and the cards that might be good fits for you.
Tap Into the Best Introductory Offers, But Don't Constantly Chase More
Many of the top credit cards are offering attractive introductory offers right now. Whether you're looking for travel rewards, cash back, or a little bit of both, credit card companies have stacked up generous rewards to attract new cardholders.
Start by analyzing whether you have the right card for your reward goals in your wallet right now. If you don't, we recommend comparing the top cards to find the best fit. Some of our favorite introductory offers right now include:
Capital One Venture Rewards Credit Card
The Capital One Venture Rewards Credit Card has a $95 annual fee, but we think it's well worth it thanks to the introductory offer and rewards beyond the intro period.
Intro Offer: Earn a one time bonus of 75,000 miles after spending $4,000 on purchases within 3 months of opening the account
Earn unlimited 2x miles on every purchase (no categories to worry about) – miles never expire for the life of the account
Earn 5x miles on hotels and rental cars booked through Capital One Travel portal.
Use miles to book through Capital One Travel or use your miles to get reimbursed for any travel purchased with the card (a unique feature that we love)
Credit Needed: Good/Excellent
Capital One's booking system, Capital One Travel, is packed with features to help cardholders get the best rates possible for travel as well. Additionally, cardholders get a variety of security and consumer protections that we think make this card standout beyond the rewards.
Capital One Venture X Rewards Credit Card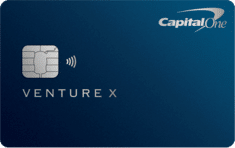 We like this premium travel rewards card so much that we've already written an in-depth review. The annual fee for the Capital One Venture X Rewards Credit Card is $395, but it is a step above the Venture Rewards Credit Card when it comes to travel rewards.
Intro Offer: Earn 75,000 bonus miles when you make $4,000 in purchases within the first 3 months of becoming a cardholder.
Get $300 back annually in statement credits for bookings through Capital One Travel, and get 10,000 bonus miles annually (starting on your first anniversary of opening the account)
Earn 2x miles on all purchases, and unlimited 10x miles on hotels and rental cars booked via Capital One Travel. Additionally, earn 5x miles on flights booked via Capital One Travel.
Unlimited complimentary access to over 1,300 airport lounges, including Capital One Lounges.
Credit Needed: Good/Excellent
If you travel, which is a major reason for being a Venture X cardholder, then the $395 annual fee is virtually covered by the $300 annual statement credit for travel and 10,000 anniversary points (equal to $100 towards travel). The Venture X card gives a heavy focus on travel rewards for bookings made through Capital One Travel. This is where cardholders can really maximize the value of having this card in their wallet. Additionally, it comes with extra protections, insurance, and perks not offered by the Venture card.
Capital One Quicksilver Cash Reward Credit Card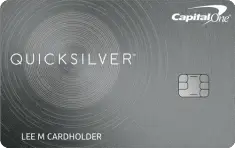 If you're looking for a cash back reward with the flexibility of stretching your rewards for occasional travel, the Capital One Quicksilver Cash Reward Credit Card might be for you. This card earns a competitive unlimited 1.5% cash back. It is also a $0 annual fee card. Cardholders can also earn an unlimited 5% cash back on hotels and rental cars booked via Capital One Travel. This card might also be a good fit for users that are interested in balance transfers, as it also includes an attractive introductory offer for the first 15 months.
Intro Offer: Get a one-time $200 cash bonus after spending $500 on purchases made within the first 3 months of opening the account. Additionally, enjoy a

balance_transfer_intro_apr,balance_transfer_intro_duration

after becoming a cardholder and then

reg_apr,reg_apr_type

after the intro period. There is a 3% fee on the amounts transferred within the first 15 months.
Earn unlimited cash back on every purchase – no categories – and rewards won't expire as long as the account is open.
Unlimited cash back on hotels and car rentals booked through Capital One Travel
$0 annual fee and no foreign
Credit Needed: Good/Excellent
The Capital One Quicksilver Cash Rewards Credit Card comes with a strong introductory cash back offer plus a generous balance transfer introductory offer. The steady 1.5% cash back rate is competitive and requires no extra planning – it's very straight forward. We love that hotel and car rental purchases made through the Capital One Travel portal provide more ways to earn extra cash back.
Additionally, there is a sister card called the Capital One QuicksilverOne Cash Rewards Credit Card for folks with average or fair credit. There is currently no introductory offer, but you get the same unlimited 1.5% cash back on all purchases as the Quicksilver Cash Rewards Credit Card.
Adding Additional Users to Your Credit Card Account
Families often have multiple credit card users – many times, they're using different credit card accounts to manage their everyday purchases. Whether it's your spouse or kids, adding additional users to your primary card account is a way to maximize and centralize your family expenses.
One of the reasons why we featured three Capital One cards so far is because adding additional users to credit card accounts is very easy. You can go ahead and add the additional users during the application process, or you can easily add them to the account after approval. They are certainly not the only credit card company that allows you to do this, but they are one of the easiest and come with less restrictions.
Once you have added users, you can also set their account levels as well. With Capital One, you have the options of making the users under your account an Account Manager (often for a trusted partner/spouse) or an Authorized User (often used for children). Account Managers have their own login, and can help with managing the account. Authorized Users do not have their login, but can use their own card to spend on your account.
When you set up users under your account, their spend on your account goes toward your reward miles (or points if you use a different credit card company). This simple approach often helps many households manage their rewards and their monthly spend more efficiently.
Maximizing Your Rewards for Small Business Owners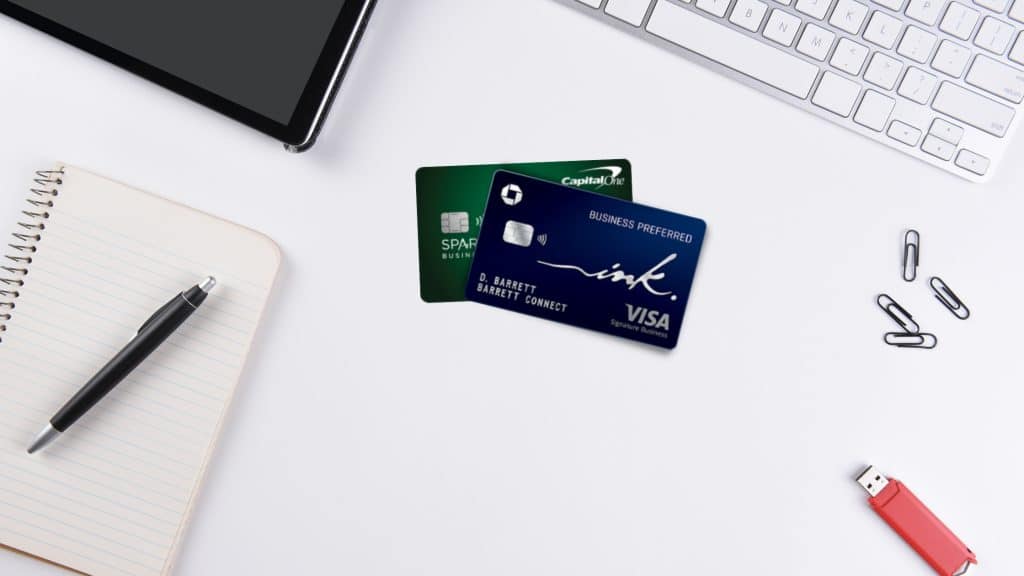 Small business owners typically have larger expenses than a typical household. This is a great opportunity to earn more rewards. The IRS views credit card rewards and miles as non-taxable, and the benefits don't end there. In addition to cash back or travel rewards for your business, using the same credit card company as your personal credit card account typically means that you can pool the points together.
For example, a small business with the a Capital One Spark Miles for Business could transfer miles over to their Capital One Venture X Credit Card account. Again, Capital One makes the business to personal rewards transfer easier than most. Other card companies allow point transfers, but it can be a bit more of a headache.
Chase offers attractive personal and business cards with their Chase Sapphire Preferred® Card and Ink Business Preferred® Credit Card that might be worth the extra steps for some business owners when it comes to pooling points together.
Final Thoughts
Whichever card you choose, remember that maximizing your rewards begins with paying off your balance each month. As you can see, Capital One offers one of the simplest ways to manage your rewards, whether it's for business, personal use, or both.