We highlighted a few special down payment programs available for teachers recently, but did you know that some teachers are buying their homes for up to 50% off? Before you call "BS", understand that you're not the only one who hasn't heard about this yet. Most teachers aren't aware of these discount home buying programs, so here's what you need to know.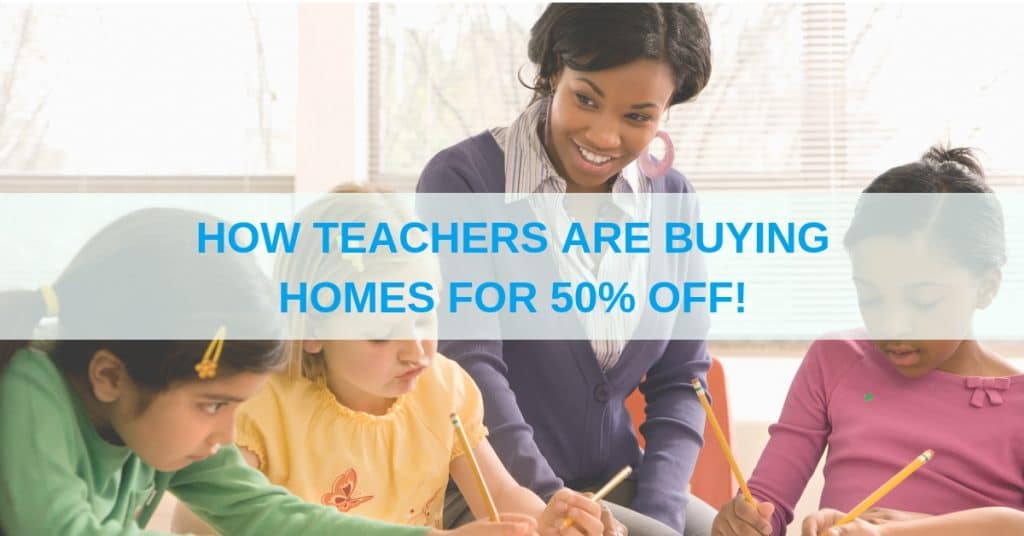 The Teacher Home Buying Program – What You Need to Know
This program isn't for everyone, and it's not easy to use either. However, if you're patient, you can take advantage of an awesome opportunity.
The Good Neighbor Next Door program falls under HUD. It was created to help attract our local heroes into the neighborhoods that they serve. The homes that are available are located in revitalization areas, and are usually great opportunities for flips and income properties. We were able to find teachers and other local heroes that have used the program multiple times to build new streams of income*.
For some teachers and young families, buying a home for 50% off is a huge opportunity. Inventory varies from state to state, which is also why it pays to be patient.
Eligibility for Good Neighbor Next Door for Teachers
Teachers that are interested in this program need to know about the following eligibility requirements:
You need to be a teacher
Check the listings in your state

If you find a home, you will need to submit your interest.

Shop for the best mortgage rates (check with at least 3, and ask about their discounts for teachers)
You will need to have a 2nd mortgage too to cover the discount amount. This is the government's insurance policy for the half off home, but there's no interest or payments required.

This requirement is tied to you committing to living at the residence for a minimum of three years.
Using the Good Neighbor Next Door Program to Create a Dream Home
As mentioned above, teachers that have used this program have cited a few big benefits.
Extra room for a renovation budget
Turning their home into a rental income property once the 3 year occupancy requirement has expired
Most users also recommend staying patient and looking at the available inventory each week. Opportunities spring up often, and although the program isn't well known, it's important to let your interest be known early.
If you would like to move into a home sooner than later, it's good to keep your options open. Check the listings, but also go ahead and connect with a lender. Getting a pre-approval letter will help you whether you bid for a Good Neighbor Next Door home or a new build down the road.
Compare Lender Rates for Free >>